The Arctic Animal Movement Archive
The Arctic Animal Movement Archive (AAMA) is a collection of studies in Movebank that contain animal movement and other animal-borne sensor data from the Arctic and Subarctic. As of November 2022, this collection includes 269 studies that contain over 62 million locations of 15,585 animals recorded from 1987 to the present.
Movebank is a global platform, and we recognize the Arctic as a region undergoing rapid climate and ecosystem changes that have impacts around the world. Animal movement data can tell us whether and how animals are responding to changes in the Arctic through altering their migrations and behaviors, and could provide remotely-sensed indicators of environmental conditions. We have developed the AAMA to strengthen efforts to archive, share and use Arctic-relevant data in Movebank to address urgent questions related to movement ecology, wildlife management and conservation, ecosystem monitoring and remote sensing in the Arctic. The AAMA also serves as a showcase for public and access-controlled data archiving that can meet data-sharing obligations for funding and publishing. Many studies are publicly available for exploration, and in all cases data owners can be contacted directly to discuss proposed uses.
AAMA boundary
The geographic scope of the AAMA defined as that of the Arctic Monitoring and Assessment Programme, which includes marine areas, and Subarctic land regions represented as areas classified as "boreal forests/taiga" by the Nature Conservancy. This boundary, along with the density of participating animal locations as of Nov 2019, is shown below (see Davidson et al. 2020):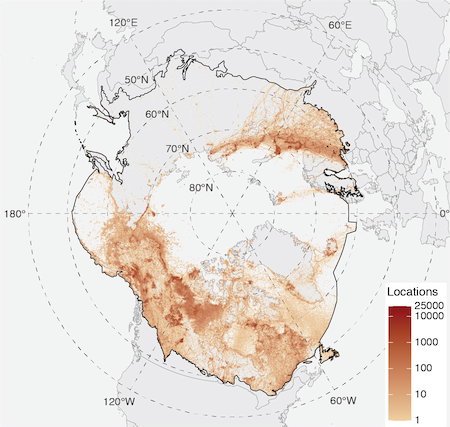 How to participate
Read below for how to participate in the AAMA by contributing participating datasets or initiating new collaborations and beneficial uses of the data.
Data owners
To include your own data from the Arctic and Subarctic in the AAMA, you can create a study and add data. Contact us for assistance. Beyond having data organized on Movebank, requirements for participation include
Owners are committed to keeping the studies publicly discoverable and considering requests for the use of their data for collaborations.
Participating data are quality checked to ensure the data are accurately stored and include sufficient metadata.
If data are not publicly available, extra steps will be taken to ensure that owner contact information does not become obsolete.
When your data are prepared, complete our AAMA Participation Agreement to have your study reviewed and added to the list of participating studies.
Data users
The AAMA provides a source of on-animal sensor data from the Arctic and Subarctic and related expertise for a variety of beneficial uses, including but not limited to
biodiversity and conservation assessments
movement ecology research
remote sensing and environmental models
wildlife management and monitoring
education and public engagement
Please read our tips on collaborations using Movebank for guidance on initiating projects and requests to share data. As described above, the AAMA is composed of both public and controlled-access studies. While many studies are open to the public, we strongly urge users to contact data owners about proposed uses, as they will have valuable input about ecological context. Also see our citation guidelines, general Movebank terms of use and user agreement. Contact sdavidson@ab.mpg.de for help negotiating data sharing.
To search participating studies,
Review the table below for studies relevant to your proposed use. The table contains links to each study for additional information.
See Movebank's user manual for general instructions on browsing and accessing data. Searching for "AAMA" on the Tracking Data Map will filter your results for participating studies.
Funding and maintenance
Long-term support for the storage and curation of the AAMA in Movebank comes from the Max Planck Institute of Animal Behavior. Initial development of the AAMA was funded by NASA's Arctic-Boreal Vulnerability Experiment. Movebank will support the addition of new AAMA studies and data, and the maintenance of contact information so that non-public studies become public, or stay publicly discoverable with current contact information for those who can address requests for use.
Citation
To cite data contained within the AAMA, please see Movebank's citation guidelines. To cite the AAMA, please use
Davidson SC, Bohrer G, Gurarie E, LaPoint S, Mahoney PJ, Boelman NT, Eitel JUH, Prugh LR, Vierling LA, Jennewein J, et al. 2020. Ecological insights from three decades of animal movement tracking across a changing Arctic. Science. https://doi.org/10.1126/science.abb7080
Image of caribou migration in Gates of the Arctic National Park, Alaska, from the U.S. National Park Service.
Contact
With questions or for assistance, contact the Movebank and AAMA curator Sarah Davidson at sdavidson@ab.mpg.de.
Participating studies
The following 269 studies are participating in the AAMA as of November 2022. This summary includes data collected within and outside of the AAMA region.
| Study | Public visibility | Species | Study start | Study end | Animals | Valid locations | Sensor types |
| --- | --- | --- | --- | --- | --- | --- | --- |
| ABoVE: ADFG Fortymile River Brown Bears | summary | Ursus arctos | 2008 | 2014 | 10 | 41822 | GPS |
| ABoVE: ADFG Mulchatna Caribou | summary | Rangifer tarandus | 2014 | 2016 | 39 | 16781 | GPS |
| ABoVE: Boelman Alberta American Robins | data | Turdus migratorius | 2016 | 2018 | 57 | 696 | GPS, Argos Doppler Shift |
| ABoVE: Boutin Alberta Moose | data | Alces alces | 2010 | 2012 | 25 | 133519 | GPS |
| ABoVE: NPS Dall Sheep Lake Clark | summary | Ovis dalli | 2005 | 2008 | 39 | 72167 | GPS |
| ABoVE: NPS Denali Bears | summary | Ursus arctos | 1991 | 2012 | 140 | 6162 | Radio Transmitter |
| ABoVE: NPS Denali Wolves | summary | Canis lupus | 2003 | 2016 | 77 | 77566 | GPS |
| ABoVE: NPS Lake Clark Wolves | summary | Canis lupus | 2008 | 2014 | 17 | 8079 | GPS, Argos Doppler Shift |
| ABoVE: NPS Wolves in Yukon-Charley Rivers National Preserve | summary | Canis lupus | 1993 | 2015 | 167 | 39786 | GPS, Radio Transmitter |
| ABoVE: USFWS R6 Golden Eagles | tracks | Aquila chrysaetos | 2014 | 2019 | 2 | 33983 | GPS |
| ABoVE: USGS/WVU Raptors | tracks | Aquila chrysaetos, Haliaeetus leucocephalus | 2012 | 2017 | 9 | 143652 | GPS |
| ADACLIM | tracks | Alle alle | 2009 | 2015 | 94 | 45540 | Solar Geolocator |
| ADF&G Nelchina Caribou | summary | Rangifer tarandus | 2012 | 2015 | 125 | 178415 | GPS |
| ADF&G Susitna Valley Moose | summary | Alces alces | 2012 | 2016 | 65 | 93339 | GPS |
| Adult Golden Eagle Satellite Tracking | tracks | Buteo , Buteo jamaicensis, Aquila chrysaetos | 2007 | 2022 | 28 | 204854 | GPS, Argos Doppler Shift, Accessory Measurements |
| Alaska Golden Eagles | summary | Aquila chrysaetos | 2014 | 2022 | 47 | 494795 | GPS, Argos Doppler Shift |
| Aquila chrysaetos interior west N. America, Craigs, Fuller | summary | Aquila chrysaetos | 1993 | 1997 | 21 | 5780 | Argos Doppler Shift |
| Aquila chrysaetos Mark Fuller North America | summary | Aquila chrysaetos | 1992 | 1993 | 6 | 845 | Argos Doppler Shift |
| Arctic breeding shorebirds; Rausch; various Canadian arctic locations | tracks | Pluvialis squatarola, Numenius phaeopus | 2014 | 2022 | 40 | 45867 | Argos Doppler Shift |
| Arctic fox (Vulpes lagopus) - Argos - Greenland (Hochstetter) | tracks | Vulpes lagopus | 2016 | 2018 | 3 | 3263 | Argos Doppler Shift |
| Arctic fox (Vulpes lagopus) - Argos - Greenland (Karupelv) | tracks | Vulpes lagopus | 2016 | 2017 | 3 | 1976 | Argos Doppler Shift |
| Arctic fox (Vulpes lagopus) - Argos - Greenland (Zackenberg) | tracks | Vulpes lagopus | 2016 | 2017 | 3 | 1975 | Argos Doppler Shift |
| Arctic fox (Vulpes lagopus) - GPS - Canada (Igloolik) | tracks | Vulpes lagopus | 2018 | 2019 | 1 | 10596 | GPS |
| Arctic fox (Vulpes lagopus) - GPS - Greenland (Hochstetter) | tracks | Vulpes lagopus | 2017 | 2021 | 6 | 52581 | GPS |
| Arctic fox (Vulpes lagopus) - GPS - Greenland (Karupelv) | tracks | Vulpes lagopus | 2018 | 2021 | 6 | 83625 | GPS |
| Arctic fox (Vulpes lagopus) - GPS - Greenland (Zackenberg) | tracks | Vulpes lagopus | 2017 | 2021 | 7 | 201741 | GPS |
| Arctic fox (Vulpes lagopus) - GPS - Russia (Erkuta) | tracks | Vulpes lagopus | 2019 | 2019 | 1 | 9217 | GPS |
| Arctic fox (Vulpes lagopus) - GPS - Russia (Sabetta) | tracks | Vulpes lagopus | 2018 | 2019 | 2 | 7775 | GPS |
| Arctic fox Bylot - Argos tracking | data | Vulpes lagopus | 2007 | 2021 | 170 | 64489 | Argos Doppler Shift |
| Arctic fox Bylot - GPS tracking | data | Vulpes lagopus | 2018 | 2022 | 40 | 1125233 | GPS |
| Arctic fox Herschel - Argos tracking | data | Vulpes lagopus | 2009 | 2010 | 2 | 327 | Argos Doppler Shift |
| Arctic Fox | summary | Vulpes lagopus | 2015 | 2017 | 5 | 1167 | Argos Doppler Shift |
| Arctic hare Alert - Argos tracking | data | Lepus arcticus | 2019 | 2020 | 25 | 4487 | Argos Doppler Shift |
| Arctic Raptors - www.ArcticRaptors.ca | summary | Falco peregrinus | 2008 | 2012 | 27 | 33339 | GPS |
| Arctic shorebird migration tracking study - American Golden-Plover | data | Pluvialis dominica | 2018 | 2020 | 47 | 3118 | GPS |
| Arctic shorebird migration tracking study - Dunlin | data | Calidris alpina | 2017 | 2018 | 6 | 711 | GPS |
| Arctic shorebird migration tracking study - Pectoral Sandpiper | data | Calidris melanotos | 2018 | 2019 | 33 | 1742 | GPS |
| Arctic shorebird migration tracking study - Semipalmated Sandpiper | data | Calidris pusilla | 2017 | 2018 | 1 | 92 | GPS |
| Arctic Skua, Faroe Islands, GPS | summary | Stercorarius parasiticus | 2017 | 2018 | 11 | 51877 | GPS |
| Arctic Skua, van Bemmelen, Norway | tracks | Stercorarius parasiticus | 2014 | 2018 | 43 | n/a | Solar Geolocator Raw |
| Arctic Skua, van Bemmelen, Tobseda | summary | Stercorarius parasiticus | 2014 | 2018 | 5 | n/a | Solar Geolocator Raw |
| Arctic skua/jaeger - GLS - Greenland (Hochstetter/Karupelv) | tracks | Stercorarius parasiticus | 2010 | 2020 | 3 | 3127 | Solar Geolocator |
| Arctic skua/jaeger - GPS - Greenland (Karupelv) | tracks | Stercorarius parasiticus | 2020 | 2023 | 3 | 14760 | GPS |
| arcticola Dunlin | data | Calidris alpina | 2010 | 2011 | 58 | n/a | Solar Geolocator Raw |
| Atlantic puffin in Iceland (Petersen) | data | Fratercula arctica | 2007 | 2012 | 13 | 6882 | Solar Geolocator |
| Atlantic Puffin, High Arctic Institute, northwest Greenland | data | Fratercula arctica | 2013 | 2015 | 9 | 5731 | Solar Geolocator |
| Atlantic Seabird Study (Red-Throated Loons) | summary | Gavia stellata | 2012 | 2015 | 64 | 70952 | Argos Doppler Shift |
| Atlantic Seabird Study (Surf Scoters) | summary | Melanitta perspicillata | 2001 | 2016 | 236 | 89840 | Argos Doppler Shift, Accessory Measurements |
| Azores Great Whales Satellite Telemetry Program | data | Balaenoptera borealis, Balaenoptera physalus, Balaenoptera musculus, Physeter macrocephalus | 2008 | 2018 | 39 | 6970 | Argos Doppler Shift |
| Bald Eagle Haliaeetus leucocephalus Mojica/Watts | summary | Haliaeetus leucocephalus | 2007 | 2022 | 87 | 3914728 | GPS, Argos Doppler Shift, Accessory Measurements |
| Bald Eagles in Alaska; Lewis | summary | Haliaeetus leucocephalus | 2010 | 2022 | 45 | 434112 | GPS |
| Barnacle goose (Greenland) Larry Griffin/David Cabot | tracks | Branta leucopsis | 2008 | 2010 | 9 | 10659 | GPS |
| Barnacle goose (Svalbard) Larry Griffin | tracks | Branta leucopsis | 2006 | 2011 | 31 | 34855 | GPS, Argos Doppler Shift |
| Barnacle Goose Finland by UTU and LUKE | data | Branta leucopsis | 2021 | 2021 | 70 | 193957 | GPS |
| BC Atlin Caribou | tracks | Rangifer tarandus | 2000 | 2002 | 10 | 16270 | GPS |
| Bean Goose Anser fabalis Finnmark. | data | Anser fabalis | 2013 | 2019 | 4 | 3422 | GPS, Accessory Measurements |
| Beringia South Migrant Golden Eagle | tracks | Aquila chrysaetos | 2012 | 2015 | 1 | 8659 | GPS |
| Bewick's Swan (Nuijten et al. 2014 J. Avian Biol) | summary | Cygnus columbianus | 2001 | 2012 | 15 | 4885 | GPS |
| Black-legged Kittiwakes; Mallory/Gaston/Akearok, Prince Leopold Island, Nunavut, Canada | data | Rissa tridactyla | 2014 | 2014 | 11 | 1704 | GPS |
| blackScoter_USGS_ASC_argos | data | Melanitta nigra | 2003 | 2009 | 53 | 30833 | Argos Doppler Shift |
| Boutin Alberta Grey Wolf | data | Canis lupus | 2012 | 2014 | 46 | 239194 | GPS |
| Bowhead whale Admiralty Inlet | data | Balaena mysticetus | 2008 | 2009 | 4 | 675 | Argos Doppler Shift |
| Bowhead whale Cumberland Sound | data | Balaena mysticetus | 2005 | 2017 | 43 | 41404 | Argos Doppler Shift |
| Bowhead whale Foxe Basin | data | Balaena mysticetus | 2003 | 2015 | 29 | 50235 | Argos Doppler Shift |
| Brant Geese Sean Boyd 2002 | data | Branta bernicla | 2002 | 2003 | 10 | 5638 | Argos Doppler Shift |
| Brant Geese Sean Boyd 2005 | data | Branta bernicla | 2005 | 2006 | 23 | 13759 | Argos Doppler Shift |
| Brown and Black bear (Ursus spp.), Jerry Belant, Alaska | tracks | Ursus arctos, Ursus americanus | 1998 | 2000 | 42 | 66659 | GPS |
| buffBreastedSandpiper_USGS_ASC_argosGPS | summary | Tryngites subruficollis | 2016 | 2020 | 130 | 76551 | GPS, Argos Doppler Shift |
| Canadian Ringed Plover geolocation tracking, Bylot Island, Canada (data from Léandrii-Breton et al. 2019) | data | Charadrius hiaticula | 2014 | 2017 | 20 | 7820 | Solar Geolocator, Solar Geolocator Raw |
| Common cuckoo, Kamchatka | tracks | Cuculus canorus | 2017 | 2018 | 4 | 589 | Argos Doppler Shift |
| Common cuckoo, Khakassia | data | Cuculus canorus | 2018 | 2019 | 5 | 83 | GPS, Argos Doppler Shift |
| Common Eiders; Love/Gilchrist; East Bay Island, Canada | summary | Somateria mollissima | 2014 | 2014 | 10 | 4101 | GPS |
| Common Rosefinch migration along the Indo-European Flyway | data | Carpodacus erythrinus | 2011 | 2017 | 22 | 1255 | Solar Geolocator, Solar Geolocator Raw, Solar Geolocator Twilight |
| Common/King Eiders; East Bay Island, Nunavut; Gilchrist 2012 and 2013 | summary | Somateria mollissima, Somateria spectabilis | 2012 | 2015 | 48 | 6658 | Argos Doppler Shift |
| Common/King Eiders; East Bay Island, Nunavut; Gilchrist/Mosbech 2001 and 2003 | data | Somateria mollissima, Somateria spectabilis | 2003 | 2004 | 32 | 2414 | Argos Doppler Shift |
| Common/King Eiders; Nuuk/Disko Bay/Upernavik, Greenland; Gilchrist/Mosbech; 2002 and 2003 | data | Somateria mollissima, Somateria spectabilis | 2002 | 2005 | 38 | 2687 | Argos Doppler Shift |
| commonEider_USGS_ASC_argos | data | Somateria mollissima | 2000 | 2011 | 167 | 82673 | Argos Doppler Shift |
| commonMurre_USGS_ASC_argos | data | Uria aalge | 1994 | 1996 | 28 | 1807 | Argos Doppler Shift |
| Distribution of spectacled eiders in Russia and Alaska 1993-1996 (data from Petersen et al. 1999) | data | Somateria fischeri | 1993 | 1996 | 88 | 2499 | Argos Doppler Shift |
| Disturbance of BG by IFV and IWWR | summary | Branta leucopsis | 2016 | 2022 | 86 | 5456455 | GPS, Acceleration, Accessory Measurements, Magnetometer |
| Disturbance of GWFG by IFV and IWWR | summary | Anser albifrons | 2015 | 2022 | 37 | 2860556 | GPS, Acceleration, Accessory Measurements, Magnetometer |
| Disturbance of GWFG by IFV and IWWR 2017-2018 | summary | Anser albifrons | 2017 | 2022 | 26 | 2862847 | GPS, Acceleration, Accessory Measurements, Magnetometer |
| Dolphin_Union_Caribou_UAV | data | Rangifer tarandus | 2015 | 2015 | 858 | 408718 | GPS |
| Dunlin (Calidris alpina) - GLS - Russia (Sabetta, Yamal) | tracks | Calidris alpina | 2016 | 2017 | 4 | 2075 | Solar Geolocator |
| Eagles Wintering in Bitterroot Valley | tracks | Aquila chrysaetos, Haliaeetus leucocephalus | 2011 | 2023 | 77 | 552040 | GPS, Argos Doppler Shift, Acceleration, Accessory Measurements |
| Earthspan Peregrines | tracks | Falco peregrinus | 1993 | 2005 | 69 | 9747 | Argos Doppler Shift |
| Eastern Montana Golden Eagles | tracks | Aquila chrysaetos | 2012 | 2018 | 43 | 153657 | GPS, Argos Doppler Shift |
| Eastern North America Golden Eagles | summary | Aquila chrysaetos | 2009 | 2016 | 76 | 1230038 | GPS |
| Eastern Washington Lesser Canada Goose - Delineating the breeding grounds of small Canada geese wintering in the Columbia Basin | tracks | Branta canadensis | 2014 | 2015 | 6 | 3066 | GPS, Argos Doppler Shift |
| emperorGoose_USGS_ASC_argos | data | Chen canagica | 1999 | 2004 | 53 | 25111 | Argos Doppler Shift |
| Fall Migrant Raptors - U.S. Atlantic Flyway - Biodiversity Research Institute | summary | Circus cyaneus, Falco peregrinus, Falco columbarius | 2010 | 2030 | 74 | 129547 | GPS, Argos Doppler Shift, Accessory Measurements |
| Foraging behaviour and fuel accumulation of pink-footed geese (data from Chudzi_ska et al. 2016) | data | Anser brachyrhynchus | 2011 | 2013 | 11 | 16842 | GPS, Argos Doppler Shift |
| FTZ Curlew | summary | Numenius arquata | 2014 | 2022 | 54 | 2924567 | GPS |
| FTZ Geese Wadden Sea | data | Branta bernicla, Branta leucopsis | 2015 | 2022 | 22 | 562730 | GPS, Acceleration |
| Full annual cycle tracking of Far Eastern Curlew (Numenius madagascariensis) | tracks | Numenius madagascariensis | 2017 | 2021 | 21 | 49515 | GPS, Argos Doppler Shift |
| Glaucous Gull Barrow Alaska | summary | Larus hyperboreus | 2015 | 2017 | 14 | 3717 | GPS, Argos Doppler Shift, Accessory Measurements |
| Glaucous Gull BPN KoEco Chaun 2017 | summary | Larus hyperboreus | 2017 | 2017 | 2 | 2322 | GPS |
| Glaucous gull Elliott Coats | data | Larus hyperboreus | 2017 | 2019 | 7 | 25925 | GPS, Solar Geolocator, Solar Geolocator Raw, Solar Geolocator Twilight |
| GNWT Dehcho Boreal Woodland Caribou | summary | Rangifer tarandus | 2005 | 2022 | 219 | 426486 | GPS, Argos Doppler Shift |
| GNWT Inuvik Barren Ground Caribou | summary | Rangifer tarandus | 1996 | 2022 | 617 | 1122555 | GPS, Argos Doppler Shift |
| GNWT Inuvik Boreal Woodland Caribou | summary | Rangifer tarandus | 2002 | 2012 | 43 | 69994 | GPS, Argos Doppler Shift |
| GNWT North Slave Barren Ground Caribou: Bathurst | summary | Rangifer tarandus | 1996 | 2022 | 613 | 1107834 | GPS, Argos Doppler Shift |
| GNWT North Slave Boreal Caribou | summary | Rangifer tarandus | 2017 | 2022 | 55 | 391977 | GPS |
| GNWT Sahtu Barren Ground Caribou: Bluenose-East | summary | Rangifer tarandus | 2005 | 2021 | 210 | 197377 | GPS, Argos Doppler Shift |
| GNWT Sahtu Boreal Woodland Caribou | summary | Rangifer tarandus | 2003 | 2011 | 20 | 23987 | GPS, Argos Doppler Shift |
| GNWT Sahtu Mountain Woodland Caribou | summary | Rangifer tarandus | 2002 | 2010 | 16 | 9398 | GPS, Argos Doppler Shift |
| GNWT South Slave Barren Ground Caribou: Beverly and Ahiak | summary | Rangifer tarandus | 1995 | 2020 | 175 | 254836 | GPS, Radio Transmitter |
| GNWT South Slave Barren Ground Caribou: Queen Maud Gulf | summary | Rangifer tarandus | 1996 | 1998 | 5 | 554 | Argos Doppler Shift |
| GNWT South Slave Boreal Wolves | summary | Canis lupus | 2016 | 2021 | 29 | 77508 | GPS |
| GNWT South Slave Boreal Woodland Caribou | summary | Rangifer tarandus | 2005 | 2022 | 299 | 858439 | GPS, Argos Doppler Shift |
| Golden Eagle (Aquila chrysaetos) Eastern N. America Mojica/Watts | tracks | Aquila chrysaetos | 2008 | 2018 | 3 | 100691 | GPS, Argos Doppler Shift, Accessory Measurements |
| Golden Eagle Migration, Denali, Alaska, McIntyre | data | Aquila chrysaetos | 1997 | 2002 | 48 | 13352 | Argos Doppler Shift |
| Golden Eagle Satellite Telemetry Data | summary | Aquila chrysaetos | 2006 | 2016 | 13 | 54967 | GPS |
| Golden Eagles of Interior Alaska; Lewis | tracks | Aquila chrysaetos | 2014 | 2022 | 49 | 497729 | GPS |
| Greenland White-fronted Goose tracking | summary | Anser albifrons | 2012 | 2020 | 158 | 3428832 | GPS |
| Gyrfalcon, High Arctic Institute, central-west Greenland | data | Falco rusticolus | 2000 | 2003 | 7 | 1754 | Argos Doppler Shift |
| Gyrfalcon, High Arctic Institute, east Greenland trapping station | data | Falco rusticolus | 2004 | 2005 | 7 | 868 | Argos Doppler Shift |
| Gyrfalcon, High Arctic Institute, Maniitsoq trapping station | data | Falco rusticolus | 2000 | 2003 | 11 | 4113 | Argos Doppler Shift |
| Gyrfalcon, High Arctic Institute, northwest Greenland | data | Falco rusticolus | 2001 | 2004 | 23 | 3890 | Argos Doppler Shift |
| Gyrfalcons Alaska McIntyre | data | Falco rusticolus | 1992 | 1995 | 16 | 1063 | Argos Doppler Shift |
| HawkWatch International Golden Eagles | data | Aquila chrysaetos | 1999 | 2009 | 33 | 23650 | GPS, Argos Doppler Shift |
| Hebblewhite Alberta-BC Wolves | data | Canis lupus | 2000 | 2011 | 68 | 174443 | GPS |
| Herring Gull QIA KoEco Korea 2017 | summary | Larus vegae | 2017 | 2018 | 16 | 34968 | GPS |
| Herring Gulls (Larus Argentatus); Clark; Massachussets, United States | data | Larus argentatus | 2008 | 2013 | 9 | 12950 | GPS, Argos Doppler Shift |
| Herring Gulls (Larus Argentatus); Fifield; Witless Bay, Canada | tracks | Larus argentatus | 2015 | 2016 | 8 | 205439 | GPS |
| Herring Gulls (Larus Argentatus); Gilchrist; East Bay Island, Canada | data | Larus argentatus | 2008 | 2016 | 16 | 26296 | Argos Doppler Shift |
| Hudsonian Godwit (Limosa haemastica) Canada Smith/Watts | summary | Limosa haemastica | 2013 | 2016 | 3 | 6446 | Argos Doppler Shift |
| iceSeals_NSB_Alaska_vonDuyke | summary | Phoca largha, Erignathus barbatus, Pusa hispida | 2011 | 2022 | 84 | 169668 | Argos Doppler Shift |
| Ivory gull - Argos - Greenland (Station Nord and Henrik Kroyer Islands) | tracks | Pagophila eburnea | 2007 | 2011 | 24 | 33942 | Argos Doppler Shift |
| Kidd et al. Rough-legged Hawk Movements in North America | summary | Buteo lagopus | 2014 | 2022 | 162 | 797178 | GPS, Radio Transmitter, Argos Doppler Shift, Acceleration, Accessory Measurements |
| King Eider Alaska (UAF / USGS) | data | Somateria spectabilis | 2002 | 2009 | 166 | 11665 | Argos Doppler Shift |
| Kittiwake, Brides & Petersen, Iceland | tracks | Rissa tridactyla | 2014 | 2017 | 19 | 39479 | GPS |
| kittlitzsMurrelet_USGS_ASC_argos | data | Brachyramphus brevirostris | 2009 | 2015 | 47 | 15891 | Argos Doppler Shift |
| Latham Alberta Wolves | data | Canis lupus | 2006 | 2007 | 12 | 15159 | GPS |
| Lesser White-fronted Goose Anser erythropus Finnmark | summary | Anser erythropus | 2013 | 2022 | 3 | 8478 | GPS, Accessory Measurements |
| Lesser Yellowlegs (Tringa flavipes) Migratory Connectivity | summary | Tringa flavipes | 2018 | 2022 | 118 | 8027 | GPS, Argos Doppler Shift |
| LifeTrack Peregrine falcon | tracks | Falco peregrinus | 2015 | 2022 | 36 | 69562 | GPS, Acceleration |
| LifeTrack Rough-legged buzzards | tracks | Buteo lagopus | 2013 | 2022 | 100 | 298258 | GPS, Argos Doppler Shift, Acceleration |
| LifeTrack Whooper Swan Latvia | data | Cygnus cygnus | 2015 | 2017 | 9 | 76706 | GPS, Acceleration, Accessory Measurements, Magnetometer |
| Light-bellied brent goose (Canadian High Arctic) Kendrew Colhoun | tracks | Branta bernicla | 2002 | 2008 | 37 | 31512 | GPS, Argos Doppler Shift |
| Long-tailed ducks ARGOS 2019 | summary | Clangula hyemalis | 2019 | 2020 | 14 | 8148 | Argos Doppler Shift |
| Long-tailed ducks GLS 2018 | data | Clangula hyemalis | 2017 | 2018 | 76 | 45289 | Solar Geolocator |
| Long-tailed Jaeger - GLS - Canadian Arctic | data | Stercorarius longicaudus | 2014 | 2019 | 35 | 17458 | Solar Geolocator, Accessory Measurements, Solar Geolocator Raw, Solar Geolocator Twilight |
| Long-tailed Jaeger - PTT - Canadian Arctic | data | Stercorarius longicaudus | 2008 | 2008 | 10 | 705 | Argos Doppler Shift |
| Long-tailed Jaeger North America | summary | Stercorarius longicaudus | 2017 | 2022 | 33 | 44584 | GPS, Argos Doppler Shift |
| Long-tailed Skua, van Bemmelen, Sweden | data | Stercorarius longicaudus | 2011 | 2019 | 25 | n/a | Solar Geolocator Raw |
| Long-tailed skua/jaeger - Argos - Greenland (Karupelv/Bliss Bugt) | tracks | Stercorarius longicaudus | 2006 | 2007 | 4 | 131 | Argos Doppler Shift |
| Long-tailed skua/jaeger - GLS - Greenland (Hochstetter/Karupelv) | tracks | Stercorarius longicaudus | 2010 | 2020 | 10 | 5306 | GPS, Solar Geolocator |
| Long-tailed skua/jaeger - GPS - Greenland (Hochstetter) | tracks | Stercorarius longicaudus | 2020 | 2021 | 4 | 3407 | GPS |
| Long-tailed skua/jaeger - GPS - Greenland (Karupelv) | tracks | Stercorarius longicaudus | 2021 | 2021 | 1 | 131 | GPS |
| longTailedDuck_USGS_ASC_argos | summary | Clangula hyemalis | 1998 | 2005 | 85 | 28005 | Argos Doppler Shift |
| Lower 48 GOEA Migration | summary | Aquila chrysaetos | 2018 | 2022 | 39 | 280088 | GPS, Argos Doppler Shift, Accessory Measurements |
| LTDU | tracks | Clangula hyemalis | 2007 | 2015 | 127 | 27862 | Argos Doppler Shift |
| marbledGodwit_USGS_ASC_argos | data | Limosa fedoa | 2008 | 2015 | 9 | 10858 | Argos Doppler Shift |
| MCP Arctic Tern Alaska | data | Sterna paradisaea | 2017 | 2018 | 9 | 3011 | Solar Geolocator |
| MCP Black-bellied Plover Alaska | summary | Pluvialis squatarola | 2015 | 2022 | 21 | 29749 | GPS, Argos Doppler Shift |
| MCP Broad-winged Hawk Alberta Boreal | data | Buteo platypterus | 2015 | 2016 | 3 | 1059 | Argos Doppler Shift |
| MCP Common Nighthawk | data | Chordeiles minor | 2015 | 2019 | 93 | 1625 | GPS |
| MCP Connecticut Warbler Alberta Boreal | data | Oporornis agilis | 2015 | 2018 | 10 | 5706 | Solar Geolocator, Solar Geolocator Raw |
| MCP Pacific Loons Alaska Colville River Delta | summary | Gavia pacifica | 2015 | 2020 | 30 | 41106 | Argos Doppler Shift |
| MCP Rusty Blackbird Alberta | data | Euphagus carolinus | 2015 | 2019 | 7 | 522 | GPS |
| Migration of Sabine's gulls from the Canadian High Arctic | data | Xema sabini | 2008 | 2012 | 26 | 6402 | Solar Geolocator |
| Migration Patterns of Pacific Sea Ducks - Version 2 | summary | Bucephala islandica, Histrionicus histrionicus, Melanitta perspicillata | 2006 | 2017 | 423 | 98164 | Argos Doppler Shift |
| Migration timing in barnacle geese (Barents Sea) (data from Kölzsch et al. and Shariatinajafabadi et al. 2014) | data | Branta leucopsis | 2008 | 2011 | 15 | 21102 | GPS |
| Migration timing in barnacle geese (Greenland) (data from Kölzsch et al. and Shariatinajafabadi et al. 2014) | data | Branta leucopsis | 2008 | 2010 | 7 | 6853 | GPS |
| Migration timing in barnacle geese (Svalbard) (data from Kölzsch et al. and Shariatinajafabadi et al. 2014) | data | Branta leucopsis | 2006 | 2011 | 22 | 24488 | GPS |
| Migration timing in white-fronted geese (data from Kölzsch et al. 2016) | data | Anser albifrons | 2006 | 2014 | 65 | 81401 | GPS, Argos Doppler Shift |
| Migrations of Caspian terns in family groups | data | Hydroprogne caspia | 2017 | 2020 | 27 | 434632 | GPS |
| Moose in the Upper Koyukuk Alaska | summary | Alces alces | 2008 | 2013 | 35 | 71675 | GPS |
| Mountain caribou in British Columbia | data | Rangifer tarandus | 1988 | 2016 | 260 | 249450 | GPS, Radio Transmitter |
| Movement of long-tailed ducks marked on the Yukon-Kuskokwim Delta, Alaska 1998-2000 (data from Petersen et al. 2003) | data | Clangula hyemalis | 1998 | 2000 | 14 | 1275 | Argos Doppler Shift |
| MurreGLS, Takahashi, St.Lawrence Island, Alaska | data | Uria aalge, Uria lomvia | 2016 | 2017 | 6 | 3485 | Solar Geolocator |
| Muskox (Ovibos moschatus) - Followit GPS - Greenland (Zackenberg) | tracks | Ovibos moschatus | 2013 | 2021 | 33 | 533835 | GPS |
| North Sea population tracks of greater white-fronted geese 2014-2017 (data from Kölzsch et al. 2019) | data | Anser albifrons | 2014 | 2017 | 81 | 1086662 | GPS |
| North Slope Cackling Geese | summary | Branta hutchinsii | 2021 | 2022 | 29 | 546344 | GPS |
| northernPintail_USGS_ASC_argos | data | Anas acuta | 2007 | 2010 | 129 | 70697 | Argos Doppler Shift |
| NPS Dall Sheep Gates of the Arctic | data | Ovis dalli | 1998 | 2002 | 34 | 976 | Radio Transmitter |
| NPS Dall Sheep in Yukon-Charley Rivers National Preserve | data | Ovis dalli | 1997 | 2003 | 102 | 131358 | GPS, Radio Transmitter |
| NPS Denali Dall Sheep | summary | Ovis dalli | 2007 | 2007 | 22 | 51867 | GPS, Radio Transmitter |
| NYSDEC Raptor Tracking | data | Aquila chrysaetos, Haliaeetus leucocephalus, Pandion haliaetus, Falco peregrinus, Asio flammeus | 1992 | 2010 | 78 | 199556 | GPS, Argos Doppler Shift |
| Oystercatcher 2016 Alves Iceland | tracks | Haematopus ostralegus | 2016 | 2016 | 15 | 2329 | GPS |
| Oystercatcher 2017 Alves Iceland | tracks | Haematopus ostralegus | 2017 | 2019 | 10 | 11233 | GPS |
| pacificWalrus_USGS_ASC_argosGPS | data | Odobenus rosmarus | 1987 | 2019 | 921 | 301033 | GPS, Argos Doppler Shift |
| Pannonic population tracks of greater white-fronted geese 2013-2017 (data from Kölzsch et al. 2019) | data | Anser albifrons | 2013 | 2017 | 10 | 118744 | GPS |
| Parasitic Jaeger/Arctic Skua North America | data | Stercorarius parasiticus | 2018 | 2022 | 8 | 36991 | Argos Doppler Shift |
| Pekania pennanti Stewart Alberta | tracks | Pekania pennanti | 2015 | 2016 | 10 | 20449 | GPS |
| pelagicCormorant_USGS_ASC_argos | data | Phalacrocorax pelagicus | 2000 | 2006 | 8 | 1495 | Argos Doppler Shift |
| Peregrine Falcon, High Arctic Institute, northwest Greenland | data | Falco peregrinus | 2001 | 2004 | 8 | 3004 | Argos Doppler Shift |
| Peters Hebblewhite Alberta-BC Moose | data | Alces alces | 2008 | 2010 | 19 | 55182 | GPS |
| Pomarine Jaeger North America | data | Stercorarius pomarinus | 2019 | 2020 | 3 | 7234 | Argos Doppler Shift |
| Pre-breeding prospecting behaviour of snowy owls (data from Therrien et al. 2015) | data | Bubo scandiacus | 2008 | 2010 | 9 | 876 | Argos Doppler Shift |
| Red fox Bylot - Argos tracking | data | Vulpes vulpes | 2011 | 2015 | 2 | 2086 | Argos Doppler Shift |
| Red fox Herschel - Argos tracking | data | Vulpes vulpes | 2009 | 2010 | 2 | 223 | Argos Doppler Shift |
| Red-necked phalarope - GLS - Greenland (Constable Pynt) | tracks | Phalaropus lobatus | 2013 | 2015 | 1 | 1179 | Solar Geolocator, Solar Geolocator Twilight |
| Red-necked Phalarope southern Chukotka (data from Mu et al. 2018) | data | Phalaropus lobatus | 2016 | 2017 | 2 | n/a | Accessory Measurements, Solar Geolocator Raw |
| Red-necked Phalarope, van Bemmelen, Norway | data | Phalaropus lobatus | 2014 | 2017 | 9 | n/a | Solar Geolocator Raw |
| Red-necked Phalarope, van Bemmelen, Sweden | data | Phalaropus lobatus | 2013 | 2014 | 12 | n/a | Solar Geolocator Raw |
| Red-necked Stint southern Chukotka | data | Calidris ruficollis | 2016 | 2018 | 3 | n/a | Accessory Measurements, Solar Geolocator Raw, Solar Geolocator Twilight |
| Red(Grey) phalarope - GLS - Greenland (Hochstetter) | tracks | Phalaropus fulicarius | 2014 | 2016 | 2 | 1482 | Solar Geolocator |
| redThroatedLoon_USGS_ASC_argos | data | Gavia stellata | 2000 | 2011 | 52 | 24907 | Argos Doppler Shift |
| Ringed seals Igloolik | data | Pusa hispida | 2009 | 2010 | 6 | 9519 | Argos Doppler Shift |
| Ringed Seals Resolute | data | Pusa hispida | 2012 | 2014 | 7 | 14913 | Argos Doppler Shift |
| Ringed seals Sanikiluaq | data | Pusa hispida | 2006 | 2013 | 66 | 86804 | Argos Doppler Shift |
| Ross's Gull - Argos - Russia (Kolyma Delta) | tracks | Rhodostethia rosea | 2013 | 2013 | 2 | 1350 | Argos Doppler Shift |
| Rough-legged Buzzard in variable environment | data | Buteo lagopus | 2014 | 2017 | 3 | 1516 | Argos Doppler Shift |
| Sabine's Gulls in the Juan de Fuca Eddy | data | Xema sabini | 2017 | 2020 | 2 | 7799 | Argos Doppler Shift |
| Sanderling - GPS - Greenland (Hochstetter) | tracks | Calidris alba | 2020 | 2021 | 5 | 2767 | GPS |
| Seaducks in the Fehmarn Belt (southern Baltic) | tracks | Aythya fuligula, Clangula hyemalis, Somateria mollissima, Melanitta nigra | 2009 | 2010 | 31 | 11033 | Radio Transmitter, Argos Doppler Shift |
| Short-eared Owl, North America | data | Asio flammeus | 2009 | 2011 | 26 | 1943 | Argos Doppler Shift |
| Skagit County Washington Western High Arctic Brant | tracks | Branta bernicla | 2016 | 2018 | 3 | 1403 | Argos Doppler Shift |
| Skagit Valley / Wrangel Island Snow Goose 2016-17 GSM | tracks | Chen caerulescens | 2016 | 2020 | 16 | 23995 | GPS |
| Skagit Valley / Wrangel Island Snow Goose | tracks | Chen caerulescens | 2013 | 2014 | 7 | 6690 | Argos Doppler Shift |
| Snow Bunting Migration Phenology | data | Plectrophenax nivalis | 2011 | 2013 | 6 | n/a | Solar Geolocator Raw |
| Snow bunting, Svalbard | summary | Plectrophenax nivalis | 2014 | 2016 | 10 | n/a | Solar Geolocator Raw |
| Snowy owl - North America | data | Bubo scandiacus | 2007 | 2016 | 33 | 33492 | Argos Doppler Shift |
| Snowy owls from Barrow Alaska 1999-2001 (Fuller) | summary | Bubo scandiacus | 1999 | 2001 | 4 | 4435 | Argos Doppler Shift |
| Solovki Larus Track | data | Larus marinus, Larus fuscus, Larus argentatus | 2017 | 2020 | 10 | 2351 | GPS |
| spectacledEider_USGS_ASC_argos | data | Somateria fischeri | 1993 | 2012 | 217 | 61299 | Argos Doppler Shift |
| Steller's eider (Polysticta stelleri) in northern Europe and northwest Russia (data from Petersen et al. 2006) | data | Polysticta stelleri | 2001 | 2002 | 20 | 10219 | Argos Doppler Shift |
| surfScoter_USGS_ASC_argos | data | Melanitta perspicillata | 2005 | 2010 | 25 | 7281 | Argos Doppler Shift |
| Taiga Bean Geese Larry Griffin | summary | Anser fabalis | 2012 | 2014 | 6 | 6910 | GPS |
| TBMUCOMU.GastonMontevecchi.NWAtlantic | data | Uria aalge, Uria lomvia | 2007 | 2011 | 122 | 60538 | Solar Geolocator |
| Thayer's Gulls from the Canadian High Arctic | data | Larus thayeri | 2016 | 2019 | 5 | 24997 | Argos Doppler Shift, Accessory Measurements |
| Thick-billed murre Elliott Coats 2010 | data | Uria lomvia | 2010 | 2010 | 22 | 31241 | GPS |
| Thick-billed murre Elliott Coats 2011 | data | Uria lomvia | 2011 | 2011 | 17 | 19619 | GPS |
| Thick-billed murre Elliott Coats 2013 | data | Uria lomvia | 2013 | 2013 | 142 | 88212 | GPS |
| Thick-billed murre Gaston PLI 2014 | data | Uria lomvia | 2014 | 2014 | 10 | 4809 | GPS |
| Thick-billed murre Gilchrist and Elliott Coats 2016 | data | Uria lomvia | 2016 | 2016 | 39 | 11152 | GPS |
| Thick-billed murre Gilchrist and Elliott Coats 2017 | data | Uria lomvia | 2017 | 2017 | 114 | 103916 | GPS |
| Thick-billed murre Gilchrist and Elliott Digges 2015 | data | Uria lomvia | 2015 | 2015 | 102 | 45973 | GPS |
| Thick-billed murre Gilchrist and Elliott Digges 2016 | data | Uria lomvia | 2016 | 2016 | 132 | 221682 | GPS |
| Thick-billed murre Gilchrist Cape Graham Moore 2016 | data | Uria lomvia | 2016 | 2016 | 57 | 34311 | GPS |
| Thick-billed murre Patterson Coats meps13890 | data | Uria lomvia | 2007 | 2019 | 72 | 44761 | Solar Geolocator, Solar Geolocator Raw, Solar Geolocator Twilight |
| Thick-billed Murres; Gaston/Akearok, Prince Leopold Island, Nunavut, Canada | data | Uria lomvia | 2014 | 2014 | 10 | 4832 | GPS |
| Thick-billed Murres; Gilchrist; Cape Graham Moore, Canada | data | Uria lomvia | 2014 | 2014 | 35 | 19860 | GPS |
| Thick-billed Murres; Gilchrist; Digges Island, Canada | data | Uria lomvia | 2012 | 2014 | 129 | 68708 | GPS |
| thickBilledMurre_USGS_ASC_argos | data | Uria lomvia | 1995 | 1996 | 20 | 739 | Argos Doppler Shift |
| Tobseda Barnacle Goose | data | Branta leucopsis | 2004 | 2005 | 15 | 2475 | Argos Doppler Shift |
| Tracking Curlew sandpipers along the EAAF | data | Calidris ferruginea | 2018 | 2019 | 13 | 900 | Solar Geolocator, Solar Geolocator Raw, Solar Geolocator Twilight |
| Tracking movements of Peregrine Falcons Falco peregrinus from breeding populations in Arctic Eurasia | summary | Falco peregrinus | 2009 | 2015 | 37 | 17045 | Argos Doppler Shift |
| Tracking of Caspian Terns (Hydroprogne caspia) in the Swedish Baltic Sea 2017-2020 | data | Hydroprogne caspia | 2017 | 2020 | 69 | 4419505 | GPS |
| Tracking post-fledging dispersal and migration of juvenile Peregrine Falcons Falco peregrinus in Arctic Russia | summary | Falco peregrinus | 2010 | 2013 | 9 | 4936 | Argos Doppler Shift |
| Tracking Red-necked stints along the EAAF | data | Calidris ruficollis | 2016 | 2019 | 17 | 1288 | Solar Geolocator, Solar Geolocator Raw, Solar Geolocator Twilight |
| tuftedPuffin_USGS_ASC_argos | data | Fratercula cirrhata | 1995 | 1995 | 5 | 149 | Argos Doppler Shift |
| tundraSwan_USGS_ASC_argos | data | Cygnus columbianus | 2008 | 2012 | 50 | 90378 | Argos Doppler Shift |
| Upper Midwest Bald Eagle Project | summary | Haliaeetus leucocephalus | 2014 | 2017 | 38 | 1769918 | GPS |
| USGS WERC Dixon Field Station Compiled Avian Telemetry | tracks | Anser albifrons, Chen caerulescens, Chen rossii, Anas platyrhynchos, Anas strepera, Anas acuta, Anas crecca, Anas discors, Anas cyanoptera, Anas penelope, Anas americana, Anas clypeata, Aix sponsa, Aythya valisineria, Aythya marila, Circus cyaneus, Phasianus colchicus, Rallus longirostris | 2015 | 2022 | 1454 | 10058215 | GPS |
| USGS Woodcock Migration | data | Scolopax minor | 2013 | 2017 | 71 | 23132 | GPS, Argos Doppler Shift |
| Vega Gull BPN KoEco Russia Chaun 2017 | summary | Larus vegae | 2017 | 2018 | 5 | 5272 | GPS |
| Wader migration German Wadden Sea: bar-tailed godwits | data | Limosa lapponica | 2011 | 2012 | 8 | 4161 | Argos Doppler Shift |
| Wader migration German Wadden Sea: grey plovers | data | Pluvialis squatarola | 2011 | 2014 | 14 | 9230 | Argos Doppler Shift |
| Washington State Surf Scoter - PTT | tracks | Melanitta perspicillata | 2003 | 2008 | 34 | 10277 | Argos Doppler Shift |
| Washington State White-winged Scoter - PTT | tracks | Melanitta fusca | 2003 | 2007 | 20 | 3716 | Argos Doppler Shift |
| Western GOEA Conservation | summary | Aquila chrysaetos | 2014 | 2020 | 81 | 616145 | GPS, Argos Doppler Shift |
| Whimbrel Numenius phaeopus Acadian Peninsula | summary | Numenius phaeopus | 2016 | 2022 | 8 | 9044 | Argos Doppler Shift |
| Whimbrel Numenius phaeopus North America Smith/Watts/Winn | data | Numenius phaeopus | 2009 | 2022 | 45 | 40949 | Argos Doppler Shift |
| whimbrel_USGS_ASC_argos | data | Numenius phaeopus | 2006 | 2015 | 32 | 39489 | Argos Doppler Shift |
| White fronted Goose QIA KoEco Korea 2017 | summary | Anser albifrons | 2017 | 2018 | 11 | 25512 | GPS |
| White-fronted goose (Greenland) Larry Griffin | data | Anser albifrons | 2008 | 2008 | 4 | 7334 | GPS |
| White-fronted goose full year tracks 2006-2010 Alterra IWWR | data | Anser albifrons | 2007 | 2008 | 7 | 11806 | GPS, Argos Doppler Shift |
| Whooper swan (Icelandic) Larry Griffin II/COWRIE | tracks | Cygnus cygnus | 2007 | 2009 | 57 | 123092 | GPS |
| Whooper swan (Icelandic) Larry Griffin/Colin Pennycuick | tracks | Cygnus cygnus | 1994 | 1996 | 9 | 431 | Argos Doppler Shift |
| Whooper swan (Icelandic) Larry Griffin/Kendrew Colhoun | tracks | Cygnus cygnus | 2007 | 2008 | 11 | 13301 | GPS, Argos Doppler Shift |
| Whooper swans in Latvia 2016 | data | Cygnus cygnus | 2016 | 2019 | 12 | 32779 | GPS, Acceleration |
| whooperSwan_USGS_ASC_argos | data | Cygnus cygnus | 2009 | 2011 | 17 | 24176 | Argos Doppler Shift |
| Ya Ha Tinda elk project, Banff National Park, 2001-2020 (females) | data | Cervus elaphus | 2001 | 2020 | 175 | 1585430 | GPS |
| Ya Ha Tinda Elk Wolf (Canis lupus) project, Banff National Park, Alberta (Hebblewhite) | summary | Canis lupus | 2002 | 2004 | 25 | 48589 | GPS |
| yellowBilledLoon_USGS_ASC_argos | data | Gavia adamsii | 2002 | 2019 | 92 | 135199 | Argos Doppler Shift |
| Yukon Caribou | summary | Rangifer tarandus | 1998 | 2019 | 297 | 446932 | GPS, Argos Doppler Shift |